Jungle Safari in Nepal: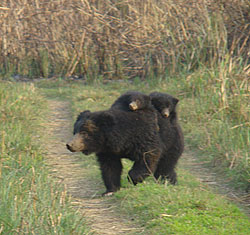 Jungle safaris have a long history in Nepal. They first started as hunting trips for the Royal Family and big game hunters from around the world. Today the hunting is more commonly done with a camera. In Nepal's protected National Parks you can observe the wildlife on foot, from the back of a jeep or even atop an elephant! Some of the animals you may come across include endangered one horned rhinos, deer, birds, monkeys and, if you are very lucky, a royal Bengal tiger.
What's more, a number of our rafting trips pass through the region in Nepal known as the Terai - home to the National Parks. We recommend a jungle safari as the perfect way to relax, unwind and experience the wildlife of Nepal.
We offer three to five day safari packages, with achoice of different standards of jungle lodges and tented camps. We arrange everything for you, from accommodation,National Park entrance permit, elephant back safari, nature walk, jungle drive, canoeing and even atraditional Tharu stick dance!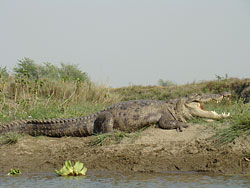 We can arrange safaris in Royal Chitwan National Park, Bardia National Park and Royal Suklaphat Wildlife Reserve.
Jungle safari / National Park experience
A trip to one of Nepal's protected National Parks or Wildlife Reserves is a unique opportunity for students to experience some of Nepal's native flora and fauna. We can arrange safaris by jeep or elephant, both a great but safe way of viewing wildlife such as the one horned rhino, deer, monkeys, sloth bears and, if you are very lucky a royal Bengal tiger!
There are also opportunities to visit the elephant-breeding center, see traditional Tharu dancing and visit a typical Tharu village.
Jungle safaris can be easily combined with one of our rafting trips for a more rounded experience.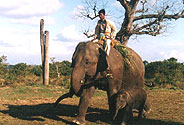 Nepal's famous National Parks for your wildlife adventure.