References
We have contact list below from some of our customers who did trekking in Nepal through our Company NMT. Please have a look their feedback.
---
---
---

From: Emily [mailto:etbloor@googlemail.com]
Sent: Wednesday, March 24, 2010 5:14 AM
To: info@nepalmountain.com
Subject: For Bidur
Namaste!
We've wanted to visit Nepal for a while now and are so happy we did! It was the best holiday we've had and we want to say thank you again to you, Olga and your team.
We visited Nepal in March, not really knowing what to expect, just that we wanted to come. We'd booked the Nepal experience tour as we had two weeks holiday and wanted to do and see as much as possible. So glad we did, as we did and saw so much more than we expected. Stunning scenery, fascinating history, unbelievable culture, friendly smiling people, vast nature, tasty food - one big adventure.
Thanks to Nepal Mountain's impeccable organisation, thoughtfulness and attention to detail, all we had to do was enjoy ourselves. On a practical level, everything was always super organised and had been carefully thought through: the order of what we did day to day, the choice of the hotel, where we climbed and the balance of relaxation vs physical challenge. Wherever we went, someone from the team was there waiting to pick us up, carry our bags, arrange our meals and help us with anything we needed.
Safety was paramount all the time especially on the white water rafting trek where we felt safer than doing it in in Europe last year. Amazing rapids and scenery left us with memories which will last. Jungle trekking in Chitwan was awesome. We'll never forget being punted down the river alongside crocodiles in a dugout canoe and squaring up to a rhino perched on top of our elephant. And finally why most of us come to Nepal, the captivating mountains and their magnificent snowy peaks.
We can't thank them enough, Bidur, Olga and their team; Shiva the town guide with his inexhaustable knowledge, Ram our mountain guide who was lots of fun, so informative and attentive during our 5 day trek, our smiling porter and driver who helped us and the rest of the team who made us feel so welcome.
If your're thinking of visiting Nepal or can't make up your minds, DO IT! It'll be the best holiday you've taken in ages and you won't regret it.
Namaste!
Emily and Gavin from UK

---
From: Angela Sng [mailto:ambersky268@yahoo.com]
Sent: Monday, April 18, 2011 9:42 AM
To: Nepal Mountain Trekking
Subject: Re: Nepal Mountain - 15 day Langtang-Helambu Trek
Hello Bidur
I managed to locate ganga sherpa's email address. Thanks.
Our comments :
"We were very well taken care of by Bidur and his team during our trip. The 7-day Helambhu- Gosaikunda trek is challenging especially if you come from sea-level like we did, but the views are breathtakingly beautiful, especially at the Mangin Goth viewpoint which offered a 360 degree panoramic view of the mountains above cloud level. We saw the sunset perched from the vantage point, and it was incredible. It would have been better to have taken an extra day or two with the trek so that we could have had more time to acclimatize. The kids loved the 2-day river rafting trip after that. It was definitely one of the highlights of the trip. Bidur is an excellent rafting guide and camping on the beach for the night was great. Thank you Bidur for a most memorable family trip."
Keep well !
Warm regards
Angela and Boon, Aidan, Ethan and Amber from Singapore
---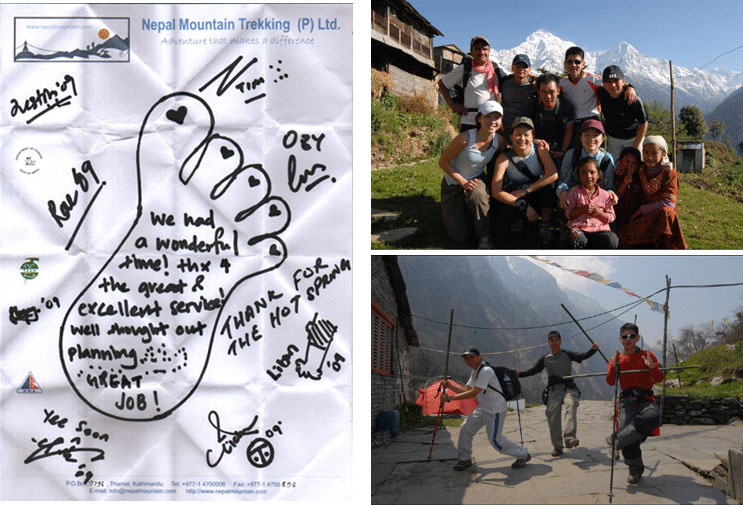 April 2009 we did organize trekking to Annapurna Base Camp and White Water Rafting on Trisuli River for group of Singaporeans please take a look their comments above and below text.

From: Yee Soon [mailto:nck33@yahoo.com.sg]
Sent: Sunday, July 19, 2009 3:46 AM
To:info@nepalmountain.com
Subject: for Bidur
Bidur, Thanks agains for the excellent service you've provided when we were there. That's the most enjoyable climb I had so far. By the way, I have friends who will be going to Nepal for trekking at the end of this year. I've recommended you to them and they should be contacting you soon.
Looking forward to the next trip.
Cheers,
Yee Soon
Tarja, Pirkko, and Soila are come from Finland and visited our country second time in April 2009 for longer trekking holidays on the Himalayas.

Please take a look their comments to NMT.
Mette, Reka, Sibylle
Country: Switzerland
View Testimonial










Pallavi Gondipalli
Country: USA
View Testimonial

Rich Morris
Country: USA
View Testimonial


---
Words cannot express how grateful we are to Nepal Mountain Trekking for making our trip to Nepal the adventure of a lifetime. We had high expectations for our trip to this exotic country and, due to the hard work, expertise, and attention to detail of Nepal Mountain Trekking, our expectations were exceeded. We went on a trek around the breathtaking mountain Manaslu and because every detail of the trek was dealt with by our incredibly capable porters and guides, all we had to do was take pictures, eat delicious food, and enjoy ourselves. We saw gigantic mountains, swam in glacial streams, visited local homes, and drank tea. It was unbelievable! Almost more surprising was how affordable the trip was. We couldn't believe how low the cost was for such a complete trip.
Though the scenery was outrageous, the most wonderful part of the trip may have been the people we met. Our guide, porters, and other staff were so fun and we loved practicing our 3 words of Nepalese while they practiced their hundreds of words of English. This trip was truly magnificent. Nepal Mountain Trekking also helped us plan and complete other aspects of our adventure. They set up a trip to Chitwan National Park in southern Nepal that was incredible (hiking with rhinoceros, riding on elephants, trying to see Bengal tigers!). They dealt with all the transportation and lodging, including in-country flights, and for the entire trip we never had to deal with a single logistical issue. They were there waiting for us at every airport with a car, smiling and in control. Though we had the freedom to make our trip exactly what we wanted it to be, Nepal Mountain Trekking was there to handle all of the logistics that would have taken us forever. They gave excellent advice and always let us choose to do whatever we wanted.
We cannot say enough amazing things about our Nepal adventure and we are already planning our next trip. Thank you Bidur and Nepal Mountain Trekking!
Namaste!
Sincerely,
Sasha Reed, Tammy Fields, and Scott Swarthout
---
Olga Sibirykova (Russia-Siberia)
Barnaul city
656002 Stroitelei str. 4-78 Russia
Tel.: +7 3852-611222
Email:
olgabid@hotmail.com
Raineri Mathieu(France)

Contact Mr Raineri Mathieu in France (Paris) to have info about traveling to Nepal and Tibet.
E-mail:
mathieuraineri@hotmail.com
Guido Santi (Germany)
Varstadt 19
74354 Besigheim
Tel.: +49 -7143 60101
E-mail:
Guido.Santi@t-online.de
http://www.foto-kreativ.de
Saba Nordstrom(sweden)
Fregattv. 65
117 68 Stockholm
Email:
sabanordstrom@hotmail.com
Anne Popelier (Belgium)

Komvest 14, B - 8000 Bruges,
Tel: +32-474-536136
E-mail:
youluckything@hotmail.com
Martin Smith
I first came to Nepal as an independent traveler in 1991 to trek in the Everest region. I had read many guide books and spoken to other trekkers but none of this had fully prepared me for my month in Nepal. I soon befriended the staffs of my hotel who were extremely helpful and a friendship developed which was to last in future years.
In 1993 some friends came to Nepal from the UK and I put them in touch with my contacts that had now started their own Rafting company name "
WhiteWater Nepal
". They were made extremely welcome and found them to be equally as helpful in assisting them with their plans.
In 1996 I returned to Nepal to undertake the Annapurna Circuit and found that the rafting company had expanded and were now also in the trekking business. Once again my contacts and good friends assisted me greatly in a successful expedition.
I returned for what I thought would be my final trek in 1998, completing both Langtang and Helambu.
I have remained in contact with my friends at "Nepal Mountain Trekking" and have directed many independent and groups of travelers to their agency over the years and all have reported a first class service and lasting friendship.
I have been fortunate enough to return to the Everest region one more time with some work colleagues and have again been able to take advantage of the first class service provided by my friends.
Three out of the four members of my party are now in their forties and we were concerned about the terrain and altitude which I had previously struggled with some thirteen years previous. All my fears were quashed when I again called upon the services of this company.
I have been more than impressed by the professionalism and enthusiasm which has become the trade mark of Bidur and their staff and will continue to promote their services as much as possible in the knowledge that it is first class.
If you ever find yourself traveling to Nepal then you must pay them a visit. Not only will you have a great time whether it be trekking or rafting but will also make everlasting, true friends.
Martin Smith, (Derbyshire Police, UK)
Independent traveler, Great Britain