Soaring to Nirvana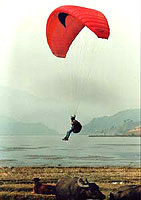 Want to fly like a bird or almost?
Share the sky with the birds!
Explore fantastic views of Nepal from above! The main paragliding site of Nepal is the Pokhara valley with constant and friendly conditions for paragliding experience due to its special microclimate. The valley provides views of Annapurna Himal, including 3 of the world's 8000m peaks. Paragliding in Nepal Himalayas is a lifetime experience for the adventure-lovers as it rewards you with some of the best scenery on earth.
For more info. about paragliding in Nepal, please,
contact us.
Mountain Flight: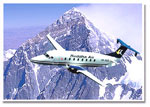 Do not miss a chance to be as high as the sky! Experience an ultimate feeling of freedom surrounded by the highest mountains on earth!
The plane takes off every morning for you to Other mountains that can be viewed at close range are Nuptse (7879 M), Lhotse (8,501 M), Cho Oyu (8,000M), Makalu (8,475 M) and Kanchenjunga (8584 M). and you will witness beauties of Himalayas including 8 out of the 14 world's highest mountain peaks.
we would strongly recommend the time period from February to April and October & November as prime time to enjoy the mountain flights.