Bird watching trek in Nepal
May this spot be paradise for your leisure!!!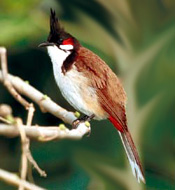 Less people trek around the Kathmandu valley rim which also offers a rich insight into the lives, history, culture and religion, together with the local and very traditional agricultural activities of its inhabitants. The valley rim lies around 1050m to 2800 m above sea level and trekking in the spring offers early blooming rhododendrons, magnolias, many wild bushy colorful flowers and in the autumn and winter, wonderful mountain views of entire Annapurna range and Mt Manaslu as well as Rolwaling range and Everest range in the far east which can be observed from some certain view-points along the trail. Together with during this valley rim trek offers you famous bird watching spots around inside Shivapuri Water shade and Wildlife Reserve. From early autumn to late spring season many endemic and exotic birds can be seen around its calm nature. Recorded by bird scholars about 200 different species of birds made this region home for their living permanently and partially.
Customized day to day itinerary
Trekking Grade: Medium (Ideal for Family Holiday)
Day 01: Arrival in Kathmandu transfer to hotel and complete the official formalities.
Day 02: Full day guided sightseeing by private transportation and late afternoon trekking preparations - buy or rent your personal equipments obtain permit for the trek etc..
Day 03: Drive to Kakani (2066m) and trek to Shivapuri hill (2725m) and over night at resort.
Day 04: Explore around birds habitats of Shivapuri hill, early morning enjoy with wonderful views of Mt. Manaslu, Ganesh Himal, Langtang Himal range and eastern face views of Annapurna region and its surrounding cultural activities of local people and over night at resort.
Day 05: Trek to Mulkharka, again early morning relax with glimpse of beautiful panorama of Himalayas and offers you dramatic photographic opportunities to your hiking journey make unforgettable. Enjoy your breakfast at your Shivapuri Village Resort and continue the trip to Mulkharka (about 5-6 hour hiking) and over night at hotel.
Day 06: Explore around birds habitat of Mulkharka (1894m), enjoy observing many water birds in the reservoir area of Bagmati River and over night at hotel.
Day 07: Trek to Chisapani (2215m), arrive at Chisapani about 5-6 hour after hiking and stay at lodge. Chisapani is another view top point of Lantang region trekking route so the amazing closer views of Himalayas is one of the best Sunrise and sun set spot among the journey besides tribal culture and mountain life-style adds more interesting to be there and over night at hotel.
Day 08: Trek to Nagarkot (1950m), (6-7 hours hiking), Nagarkot is another popular holiday spot among the travelers to stay there for its panoramic views and beautiful sun rise and sun set glimpse. It has many nice small villages around settled by different ethnical groups- Newar, Tamang Brahmin and Kshetri are the main and it is also Nepal's fastest grown hill station in the tourism history of the country and over night at hotel.
Day 09: After spectacular view of the sunrise trek down to Dhulikhel (1600m), Dhulikhel is an ancient small town situated 30 km. away from Kathmandu city. The hiking journey (3-4 hours) to Dhalikhel is very scenic and beautiful hill terraces field on both sides of the trail are spectacular. It is also a popular panoramic Himalayan view point and old trade route to Tibet for now and then and over night at hotel.
Day 10: Trek to Namobuddha (1768m), Namobuddha is one of the most sacred holy pilgrimage site for Buddhist religious people. Every Budhhist has dream to visit there once in life time next to the birth place of Buddha. The surrounding environment of the holy monastery will definitely add to your hiking journey (4-5 hour) peaceful and pleasant and overnight at Gompa lodge.
Day 11: Trek to Balthali Village (1650m), after breakfast from the holy site Namobuddha continue your (4-5 hour) to the next destination Balthali village which is perfect and lovely place to retreat among the trip. The classic journey to countryside of Nepal arund the area will make to experience with real Nepalease culture and heritage and overnight at Balthali village resort
Day 12: Explore around birds habitats of Balthali Village and as well as local traditional culture, enjoy watching many birds in that peaceful area with amazing snow clad views of mountain and over night at hotel.
Day 13: Trek to Lakuri Bhanjyang, 6-7 hour hiking journey from the previous stop you will be at Lakuri Bhanjyang Hill top relaxation spot. This day you will be provided to accommodate in adventure tented camp. The wonderful place offers you again breathtaking panorama once to enjoy with snow clad Himalayan peaks from the southern part of the valley.
Day 14: Trek to Lubhu village, early morning enjoy your breakfast with the excellent views of surroundings and after continue your hiking towards Kathmandu via medieval age small hamlets Lubhu and end the trek, drive back to Kathmandu and transfer to hotel.
The above package includes the following services:
Airport transfers pick up and drop
Entry permits to Shibapuri Wildlife Reserve
All supporting staffs (trekking guide and porters), as well as their necessary insurance, meals and allowances
3 meals per day and overnight accommodation in tea house lodge along the trail or BB Basis service as required.
Private transportation for transfer before and after the trek
One full day guided sightseeing by private transfer
3-nights hotel in Kathmandu in BB basis ( please chose the hotels standard as you prefer)
The above package does not include:
International airport departure tax
Lunch and dinner hotel in Kathmandu.
Travel / medical insurance and emergency evacuation cost
Personal expenses such as laundry, telephone calls, alcoholic beverages, bottled drinks (including cold drinks and mineral/hot water), tips, gifts, souvenirs, etc..