Jungle Safari in Nepal:
An amazing holiday for you and your family to experience pristine nature of Nepal's "Chitwan National Park" Jungle Safari tour...
One of the Asia's best and most famous one horned rhinoceros habitat park is located in the central development region of Nepal covering an area of 932 sq.km. which is established in1973 as the first national park of the country. The park offers wonderful wildlife safari trip for every travelers to enjoy their exotic holiday. The entire enchanting jungle is covered with variety of flora and fauna – the Royal Bengal Tiger, wild elephant, wild beer, wild boar, about 450 endangered one horned rhinoceros, leopard, wild gaur bison, 4 different types of deer, marsh mugger and gharial crocodile and several species of beautiful birds including gees, stroks, egrets, jungle fowl, king fisher, cormorants etc.
The vegetation consists 600 different species with unique sal forest, several riverine forest type mixed trees and tall grass land. There are altogether over 43 species of large mammals, 526 species of birds, 150 different types of butterflies, 126 species of fish and 49 species of reptiles. The park is also known as a World Heritage Site since 1985 when it was declared by the UNESCO and recognized world wide.
For your holiday there is ideal for combined with an exiting white water rafting in Trishuli River, Seti River and on the way of coming back from 7-9 days Sun Koshi River Expedition trip or before and after the any mountain adventure trek. It is also accessible by 4-5 hour drive Kathmandu and 4:30 hour from Pokhara or a short 20 minute picturesque flight to Bharatpur airport from Kathmandu.
An Encounter with wild Rhinoceros
3 days/ 2 nights Jungle Safari Tour Package Program in Chitwan National Park
Day 01: Jungle Safari Activities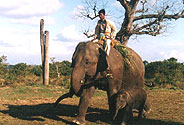 Arrival at Chitwan, pick up from the bus stop/ airport and transfer to Jungle Safari lodge. Enjoy your welcome drink and brief about the package program, after refreshment serve you lunch and start the further activities.
Local Tharu village excursion and typical cultural experience of Nepal's plain land "Terai." In Nepal's Terai east to west Tharus are the main ethnical groups settled in their community.
After amazing sunset view back to the camp site, slide presentation about the flora & fauna of the National Park and serve you candle light dinner.
Day 02: Jungle Safari Activities
Wake up call early in the morning and serve your tea/coffee drinks.
You could go for the elephant back safari. The elephant back safari will be about 2 hr. for morning jungle excursion before the breakfast which is one of the best ways of viewing natural lives in the jungle. You will have chance to see most of the different wild-lives and their natural habitat.
After elephant back safari back to the camp, enjoy your breakfast and rest for a while to be refresh and brief about the jungle walk
About 9:30 AM go for the jungle walk to explore the wild life in the nature and enjoy your jungle pack lunch in the spot.
On the way of coming back you will be joining for canoeing trip to observe marine wild-life of the park. The canoe ride end further down of river then walk to elephant breeding centre and back to camp site.
In the evening dinner party and typical Tharu stick dance show.
Day 03: Jungle Safari Activities
Wake up call early in the morning and serves your tea/coffee drinks.
You could go for the bird watching tour to see many different birds both endemic and exotic and some are migrated in side the National Park seasonally for long time.
After come back to the camp to have a breakfast and pack the baggage to transfer to the Bus Park/ airport for the departure.
Above Package Includes:
Full board jungle safari activities (necessary nature guide, accommodation and meals)
Transportation by land or flight as required (flight cost extra charge)
Necessary entrance fee for National Park
Transfer to tourist Bus Park/ airport (both pick up and drop)
Above Package Excludes:
Meals on the way of journey
Airport departure tax.
Travel / medical insurance and emergency evacuation cost
Personal expenses such as- laundry, telephone calls, alcoholic beverages, bottled drinks (including cold drinks and mineral water), tips etc.
Nepal's famous National Parks for your wildlife adventure.