Tibet Tours
Flight Kathmandu to Lhasa–Kailash–Dzangmu (18 Days)
Mount Kailash is striking in the way it rises high above the surrounding range and always remains snow-capped, thus its name in Tibetan "Gang Rinpoche", which means "supreme mountain". Traditional Buddhist cosmology has often connected Kailash with Mt. Meru, the great mythological mountain that forms the axis of this world system. The power of this strange, domed peak has gripped the imagination of the people of Nepal, India and Tibet since thousands of years and more peoples from all over the world are willing to see it in reality.
This is one of the best tours for those of time conscious people. You will have extra benefit to visit Tirthapuri at the same time. We drive you to Zangmu the border town, Pigu Tso one of the beautiful Lake of Tibet, Saga, Dongba, Paryang, Lake Manasarovar and all the way back to Kathmandu. The total journey is of 16 day and the maximum elevation is 5630m. You also will have chances to see wild Ass and Tibetan Antelopes.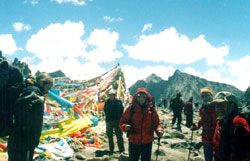 Day to Day Itinerary:
Day 01 Flight ktm-Gongkar Airport and drive to Lhasa. 60Km. 3600Mt. O/N in the Hotel.
Day 02 In the morning visit Potala Palace and in the afternoon Jokang temple. O/N in the same Hotel in Lhasa.
Day 03 In the morning visit Drepung monastery and in the afternoon Sera monastery. O/N in the same Hotel in Lhasa.
Day 04 Drive to Gyangtse via Yamdrok holy lake and Nanchen Kangsang glacier.
O/N in the Hotel.
Day 05 Morning visit to Palchoe monastery and Kubum Pagoda Stupa. In the afternoon drive to Shigatse. and Visit Tashi Lhunpo monastery and Old market of Shigatse.
Day 06 Drive to Lhatse. O/N in the guest house.
Day 07 Drive to Sang Sang. O/N in the Hotel.
Day 08 Drive to Saga. O/N in the tent.
Day 09 Drive to Baryang. O/N in the tent.
Day 10 Drive to lake Mansarovar. O/N in the tent.
Day 11 Drive to Darchen. 55Km 4700Mt. O/N in the basic Guest House.
Day 12 Start Trek to Dira Phuk. 18Km 4900Mt O/N in the tent.
Day 13 Trek to Zutrul Phuk 20Km 4750Mt passing Dorma-La 5635mt. O/N in the tent.
Day 14 Trek to Darchen. 14Km and drive to Lake Mansarovar. O/N in the tent.
Day 15 Drive to Baryang. O/N in the tent.
Day 16 Drive to Saga. O/N in the tent.
Day 17 Drive to Nyalam. O/N in the Guest House.
Day 18 Drive to Friendship Briedge and back to KTM. end the trip
For Cost details of above package,
Please contact us.
The above Package includes the following services:
Airfare Kathmandu/Nepaljung/Simikot.
All the luggage transfer.
All necessary special permits for Nepal and Tibet.
Full camping is organized in Nepal and Tibet with kitchen tent, guide, porters and in Tibet Yaks and Yak men.
Accommodation in Nepalgunj before fly to Simikot.
English speaking guide in Nepal side and Tibet.
Tibet side transport by deluxe 4500 Land cruiser and support truck.
Oxygen.
Food 3 times a day prepared by our cook in Nepal and Tibet.
Chinese visa (If not difficult you can obtain back home) If not we can organize here as well.
Airport transfers.
Flight ticket Lhasa to Kathmandu.
National grass land fee at Pekutso
Border Immigration fee
All the entrance fee
All the 3 meals up to Saga.
The above Package does not include:
Accommodation in Kathmandu
Alcoholic beverage
Nepal Re-entry visa after your trip to Tibet (please make a double entry visa for Nepal when you buy Nepal visa)
Insurance of any king, Rescue helicopter (I believe we don't need that)
Expenses of personal nature such as donation, laundry, telephone calls, Soft drinks, alcoholic beverages, mineral water, tip etc...
Lunch and Dinner after Saga.